Anyone tried to look for useful info on the Parks Victoria website?
Anyone had a go at finding the Castlemaine Diggings NHP management plan, for example?
Forget it. Parks website does carry a number of management plans, but not for Castlemaine Diggings. It seems that Parks Victoria's web page is undergoing a makeover, and also that the Diggings Park's management plan is being 'reviewed.' Until that process is finished, you won't find it on the web.
The plan is a pretty indigestible document, though a careful reading of it provides some statements which should be embarrassing to Park administrators.
Check this policy, for example:
'Minimise the impact of vehicle and track management on the park's cultural and natural values.' Readers of this site will know that this part of the management plan is treated with contempt. Roadside vegetation is routinely massacred by careless roadworks…
So it would be good if the Plan was more accessible, and better known…We look forward to an updated version being made available to the public.
More important than that plan, however, is the absence of practical Park information from the web. Parknotes, for example, have disappeared. These are the A4 sized sheets, often full of interesting information.
That info is now unavailable from Parkweb, however. If, for example, you wanted to find out something on the Rise and Shine reserve, this is what Parks gives you: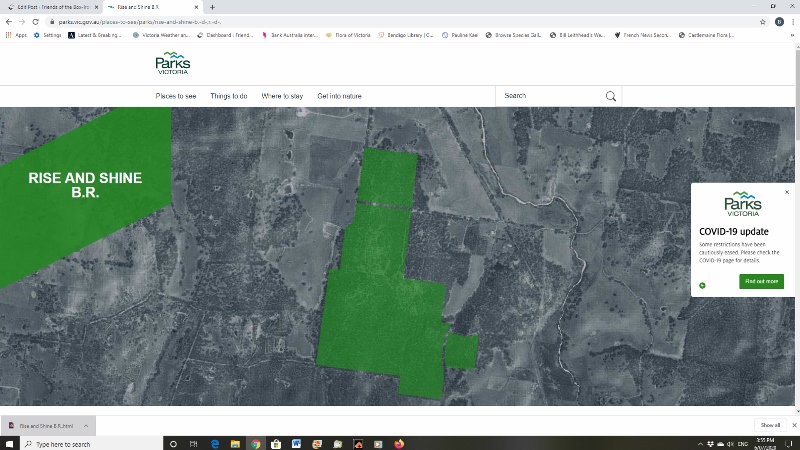 That's it! If you want something more useful, go to Geoff Park's Natural Newstead site, and you'll find notes to accompany you on the walk through that reserve.
Parkweb is similarly lacking in info on other sites in the region.
Does this matter? Can't people just work out for themselves what to see and where to go? Well, yes and no. Parks Victoria is supposed to have an educational role, and a lot of people need and want information on the places they visit.
That unavailable management plan, for example, tells us that one of the aims of the park is to enhance visitor understanding of 'the park's cultural and natural values' by the implementation of an information, interpretation and education program.'
Parknotes is a cheap and very friendly way of doing this. The sooner they're made more available to the public the better.