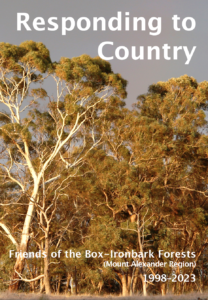 Friends of the Box-Ironbark Forests was formed in 1998 by people in the Mount Alexander region interested in working for protection of the surrounding Box-Ironbark forests and woodlands.
Over 80% of Box-Ironbark forests were gone. But many of the remaining fragments of the once vast sweep of these forests, though crippled, had been slowly recovering, partly because they had been left to their own devices.
However pest plant and animal invasions were growing, demands for firewood and other resources continued, the human population was expanding, and many woodland species were seriously threatened.
In 2023 FOBIF held an exhibition to mark 25 years of promoting the value of our forests and campaigning for a better future for them.
This 70 page exhibition catalogue includes 20 nature photos by members and supporters, historical material, children's art and geological information.
The book is published by Friends of the Box-Ironbark Forests and edited by Bronwyn Silver.
Sample page below.
Recommended Retail Price: $15.00 plus $3 postage and handling ($18)
You can pay by cheque, bank transfer or through PayPal.
click here to download an order form to pay by cheque or bank transfer
or
use the PayPal form below