Looking for something to sharpen up a dull day? Try Marjorie Theobald's recently released The accidental town: Castlemaine 1851-61.
The business of this book is to show how a town and a community emerged from the mad scramble for gold in the 1850s. The book covers early efforts to put order into the chaos of the rush, to lay out a town in a shamble of tents, to set up institutions, deal with health problems, provide entertainment and culture, and satisfy the spiritual aspirations of the people.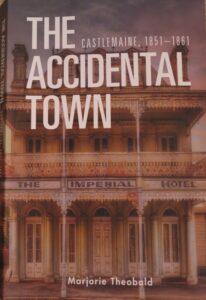 This may seem a prosaic list, but in fact it's an inspiring tale told with exhilarating style, in part because of the protagonists involved, but mainly because of the author's incisive and frequently humorous insights into what appears at times to be complete mayhem. Present day residents worried that debate on municipal matters gets a bit out of hand will be interested to find that things were pretty willing 170 years ago. Councillor William Hitchcock features prominently, for example:
'In late October (1857) Hitchcock was sentenced to three days in prison for a drunken assault on William Holl, messenger to the Municipal Council, who attempted to stop him kicking in the door of the Town Clerk's office…' A year later Hitchcock 'attempted to present a testimonial to Thomas Andrews for his services as first chairman of the Council and the first chief magistrate of the Municipality. It was a handsome production…framed with cedar and enclosed behind glass. Andrews stunned those present by pointedly refusing to accept the memorial if it were coming to him from the council rather than the ratepayers…Chaos ensued, during which Councillor Chapman held the testimonial aloft and smashed it to the ground…' Oh dear…
On a more civilised note, it's interesting to find that the first performances in the old Theatre Royal in 1855 were three plays by Shakespeare. The town's interest in the arts is long standing…
The book can be had from Australian Scholarly Publishing here . It seems it's already a best seller at Stonemans in Castlemaine, and is sold out there—but you can pre order at 5470 5134.