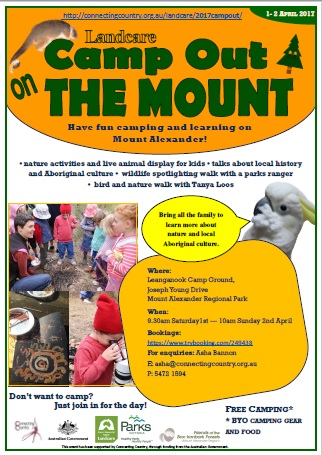 FOBIF has run a Winter School Holiday Program for the last two years and has decided to take a break this year. For those still interested in environmental and Aboriginal cultural heritage education for primary school age children, be they yours or your grandchildren, FOBIF is supporting the Camp Out on the Mount event on the 1-2 April at the Leanganook Campsite on Mount Alexander which is being run by Connecting Country.
The Landcare Camp Out on The Mount was born out of community frustration with seeing introduced pine trees spreading throughout the bush on Mount Alexander. The Camp Out has since evolved to become an event that is also about fostering a love of the local bush by encouraging kids to explore and enjoy the outdoors. Building this connection will hopefully help ensure our local children grow up with an appreciation for the area and a passion for looking after it in the future.
This year there is an exciting array of free activities and camping over the weekend for all age groups including:
Welcome to Country by local Dja Dja Wurrung elder
Children's environmental and Aboriginal cultural educational activities
Live animal display for primary school aged kids,
Indigenous culture talk with local Aboriginal people.
History of the Mount talk with George Milford from Harcourt Valley Landcare.
Night spotlighting walk with Brendan Smith from Parks Victoria
Family bird and nature walk with Connecting Country's Tanya Loos.
'Pine assassins mission' to do further weed pine tree control on the Mount.
CLICK HERE for more information about the weekend, and CLICK HERE to book. If you have any questions, please call or email Asha (asha@connectingcountry.org.au, 03 5472 1594). If you would like to join the exclusive 'pine assassins mission', please let Asha know asap, as places are limited.