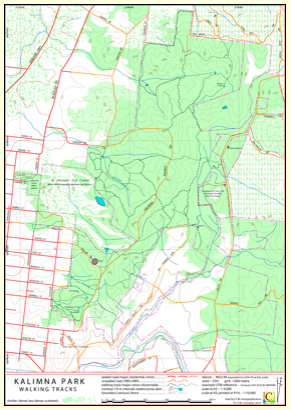 Robert Frost wrote a famous poem called 'The Road Not Taken' that begins with the line 'Two roads diverged in a yellow wood'. Had he been writing about Kalimna Park he might have added 'then diverged again, and again, and again'. It's a fact that Kalimna Park has got more trails than it knows what to do with and a walk there almost always involves a series of decisions about which 'road' to take that day.
Enter Jase Haysom. Central Victoria's original GPS-wielding cartographic adventurer and community mapper extraordinaire. Jase has spent the last few months mapping Kalimna Park to create a topographical map that shows almost all of the roads and trails in the Park – he drew the line at kangaroo paths and goat tracks.
Thanks to Jase's effort you can now download a map of Kalimna Park page from his Cartography Community Mapping website.
The map will also be made available as a hardcopy from the Castlemaine Information Centre and will be used by the Friends of Kalimna Park to help them plan activities and promote the park. The Friends hope that the map can eventually be installed at the Kalimna Point carpark.
As for the 'road not taken', Jase will never have to sigh at the thought it – he's mapped them all!