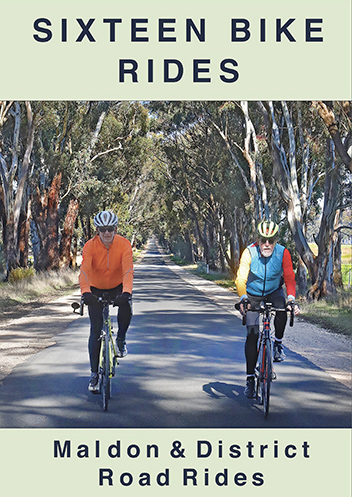 This book which has just been published contains nine A4 sized maps, showing 16 road rides. There are detailed route descriptions, elevation profiles and local photographs.
The rides are on surfaced roads, suitable for road bikes, gravel bikes, hybrids or MTBs. All start and finish at Maldon Post Office but they are out-and-back or loop rides, so you can start at other points on the route if you like. Many of the rides are via Castlemaine.
Rides are of varying distances and difficulty from a short one around the town of Maldon to several about 100 km long. They cover a wide area from Bridgewater to Daylesford and Maryborough to Leanganook (Mount Alexander).
You can buy the book at Stonemans Bookroom, Castlemaine Visitor Information Centre, Maldon Visitor Information Centre, Maldon Bookshop (formerly The Book Wolf), Maldon Bicycles, Maldon Newsagency, Giant Bike Shop (Hargraves Street, Castlemaine), Herbie's Café, City Family Hotel (High Street, Bendigo) and Maryborough newsXpress (High Street). The RRP is $15 but price may vary at some some outlets.
The book has been published by Maldon Cycling, a collective of Maldon bike riders. For enquiries please use Contact Us form at https://www.maldoncycling.org/