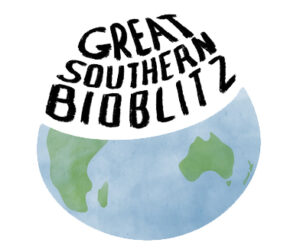 The Great Southern Bioblitz on iNaturalist runs from midnight on Thursday 27th October to midnight on 31st October. The idea is for the community to capture as many records (photo or sound recording) of life forms in the wild i.e. no farm animals and pets, people or garden plants; within our region. Our region is Mt Alexander Shire and the eastern half of Hepburn Shire so extends south to the Great Divide near Daylesford. Observations must be made within the dates but can be loaded to iNaturalist and have identifications confirmed up until 13th November. Once the identifications have been confirmed the records flow through to Atlas of Living Australia where they are available for research purposes.
The whole idea is to get people out looking and recording the natural world around them and to have fun at the same time. Things can get competitive as different people try to make more observations than their peers. There is also a friendly competitive element between the different regions taking part.
You can find out more about GSB22 here and here. Our local project is here.
Local training session
On Wednesday 19th from 7pm – 9pm Euan Moore will be running a training session for anyone who wants to take part in the GSB or simply wants to learn more about the iNaturalist platform. This will be at the introductory level and provide enough information to enable people to load sightings and identify the sightings made by others. If anyone wants to come along please email Euan at calamanthus5@bigpond.com