'Native pea plants in the bush: they're hard to see when they're not in flower, and hard to miss when they are. They're spectacular, but it's hard to deny that they're very occasionally hard to identify. The good news is that a solution to the ID problem is at hand…
Launch is now cancelled. Check out this post for information about the cancellation and how to buy the new book.
FOBIF's latest publication, Native Peas of the Mount Alexander Region, will be launched via Zoom on Thursday March 18 at 7.30 pm. Covid 19 restrictions have unfortunately prevented us from staging our preferred launch, with real physical presences…The book will be launched by Ian Higgins, one of the region's most noted ecologists.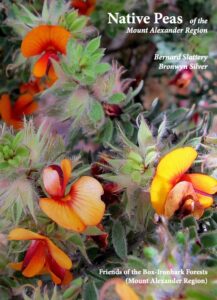 To register for the launch email us at info@fobif.org.au
The guide will be available for sale immediately after the launch, from the usual local outlets–Stoneman's Bookroom, Castlemaine Visitor Centre, the Enviro Shop Newstead and The Book Wolf in Maldon. It will also be available by order from this website, and other outlets in Melbourne and interstate. The recommended retail price is $10.00.