The announcement of a new year of fuel reduction activity by DELWP provokes the usual thoughts: will the program be effective in actually reducing fuel? Will it be properly monitored? Will there be negative effects environmentally and economically (over-hot burns, smoke damage to wine grapes, etc)?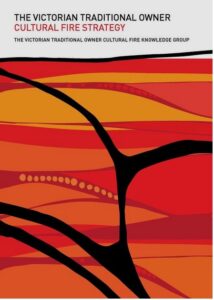 In that context, it's worth drawing attention to the growing interest in indigenous cultural burning, and in particular to the Victorian traditional owner cultural fire strategy, produced by the traditional owner cultural fire knowledge group. You can find this 28 page document online here.
The six principles outlined in the document are as follows: 
Cultural Burning is Right Fire, Right Time, Right Way and for the right (cultural) reasons according to Lore. There are different kinds of cultural fire practices guided by Lore applicable across Victoria's Countries.
Burning is a cultural responsibility. Traditional Owners lead the development and application of fire practice on Country; the responsibilities and authority of Traditional Owners are recognised and respected.
Cultural fire is living knowledge. Aboriginal fire knowledge is shared for continual learning and adaptive management. Traditional Owners will work together on each other's Country to heal Country and guide practice development. Knowledge and practice are shared.
Monitoring, evaluation and research support cultural objectives and enable adaptive learning. MER will be used to build a body of evidence that allows cultural burning to occur and grow.
Country is managed holistically. Traditional Owners manage Country holistically to address multiple values and objectives, healing both Country and culture. Partnership arrangements and management objectives are tailored to each regional and cultural landscape context. This includes analysis of the tenure, regulatory and operational arrangements to support cultural fire application, other beneficial Indigenous management practices, together with a process of learning to continuously improve planning, management and action.
Cultural Fire is healing. There are substantial positive impacts to Traditional Owner wellbeing and confidence through providing access and authority to practice on Country.
The whole of this document is worth an attentive reading. The authors acknowledge that the strategy has limitations: 'Traditional Owners have limited authority, resources and capacity to develop and apply cultural fire practices on Country according to the principles described in the strategy.' Therein lies a particularly interesting challenge.