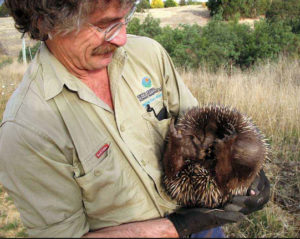 Ian Higgins, well known local landcarer and co-founder of Friends of Campbells Creek Landcare, will be our speaker at the upcoming FOBIF AGM on August 27.
In an article about Ian after he received the Australian Government Individual Landcarer Award in 2017, the Victorian Landcare Magazine wrote:
Higgins' early interest in native plants has continued through his life. He developed a remarkable knowledge of indigenous flora species, their propagation and revegetation, leading to a 30-year professional career during which he has contributed significantly to revegetation and environmental planning in Victoria, in both professional and voluntary capacities.
You can find out about Ian's history of involvement in environmental projects here.
Topics he will cover in his FOBIF speech will include:
Changes in our landscape and vegetation since colonisation, including the profound local impacts of gold mining and the consequences of a European mindset
A short history of rehabilitation efforts, including the contribution of landcare groups
Is aiming for something more like the pre-European condition viable? Given that we've already lost many components of the ecosystem, together with massive invasions of exotic species and climate change, what should our local landscape and vegetation management goals be?
The meeting will start at 7.30 in the Ray Bradfield Room, Castlemaine (next to Mostyn Street IGA supermarket). Information on how to nominate for the FOBIF Committee can be found here. All welcome and supper will be served.