DELWP fire officers had two info sessions in this region last month to brief residents about the upcoming fire season, and planned burning operations. To see where these burns are taking place on the Department of Environment's interactive map, click here.
It's not the friendliest map, but a bit of persistence will give you a detailed look at where burns are planned for the next three years.
Among the information available at the drop in sessions was a useful A4 sheet, How does a planned burn happen? The sheet is divided into four sections: Planning the burn; Before the burn; On burn day; and After the burn. It would be fair to say that the info on the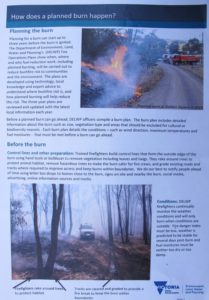 sheet is a bit idealised: FOBIF has had experience with burns which don't look quite as smoothly planned and implemented as the scenario on the sheet. In particular, the statement that firefighters 'rake around trees to protect animal habitat' will ring rather hollow to readers of this website, familiar with the apparently relentless destruction of habitat trees in Department operations.
More seriously, it's a pity there was no room on the document to explain what the Department does to assess the actual achievement of its burns. The After the burn section is restricted to showing how firefighters patrol the burns to make sure it's safe. There's nothing to say how the burn is assessed for its actual fuel reduction, medium to long term. Nor is there mention of a critical overview of the burn from the environmental point of view. Well, it's a short document, and only the really important stuff would fit on it…
…And on the subject of what's important, and what's less important, readers may want to look at Alison Pouliot's provocative article in the latest edition of the invaluable Wombat Forestcare Newsletter. She poses the question, has our bush been reduced in the public mind to fuel? And has it become, simply, the enemy? 'Summer is gone. Over. Finished. It is now officially the fire season…Not only has summer become the enemy, but so has the forest.'
Check it out.