On Saturday 24 September the new Friends of the Box-Ironbark publication, Eucalypts of the Mount Alexander Region, will be launched by Geoff Park, well known local environmentalist and author of the Natural Newstead blog.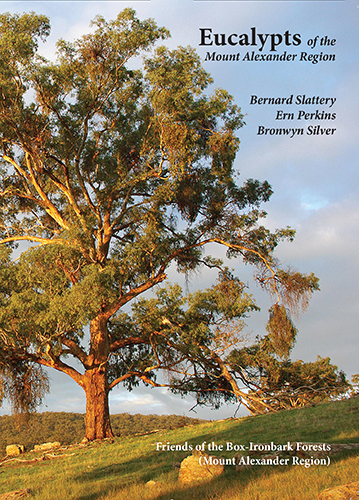 This 90 page guide aims to help the beginner train the eye to see the differences between eucalypts – and to appreciate how spectacular they sometimes are. It presents the commonest species of the Mount Alexander Region, generously illustrated, and clearly described in plain language. Though firmly based on one local area (the forests and reserves around the town of Castlemaine), it describes species common to the whole Box-Ironbark region, and would be useful to any enthusiast in that region, from Ararat to Chiltern.
The publication of this book has been made possible by a generous grant from the Worrowing Fund through the Norman Wettenhall Foundation. Other supporters have been the Castlemaine Field Naturalists' Club and Connecting Country.
The book's cost is $10 and people buying it at the launch will receive a selection of free tree-related bookmarks and a FOBIF fungi poster. Proceedings will start at 10.30 in the Castlemaine library foyer. Refreshments will be served.