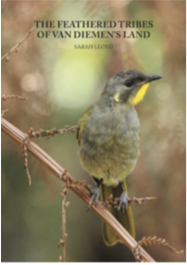 People might remember Sarah Lloyd who gave a very popular talk on slime moulds at last year's FOBIF AGM. She has just published a new book, The Feathered Tribes of Van Diemen's Land. It's full of wonderful photos and so comprehensive it could used to identify most species. However it's main intention is to "encourage an interest in the birds that surround us and an understanding of their habits and needs so that all landowners – whether of small backyards, extensive farms or beachfront properties – can help to ensure that Tasmania's special birds will thrive."
More about the book and where to buy it can be found here.
Strangways resident and nature sound recordist Andrew Skeoch was recently featured on the ABC radio program Big Ideas:
Trying to record birdsong in the pre-dawn darkness, Andrew Skeoch realised how few of us get a chance to really listen to nature. Now he's a champion of natural soundscapes, and believes they can teach us much about beauty and even the evolution of life. (from ABC website)
The episode entitled 'Listening to Nature', was recorded at this year's Woodford Music Festival. Click here to listen to Andrew's fascinating talk.