The FOBIF AGM will be held on Monday July 27 at 7.30 pm at the Ray Bradfield Rooms, beside Victory Park, Castlemaine. Nominations for the FOBIF committee will be accepted before the meeting. Nominations should be signed by the nominee and two other financial members.
The guest speaker will be Sarah Lloyd, author of the remarkable book, Where the slime mould creeps. See our earlier post for a review of her book.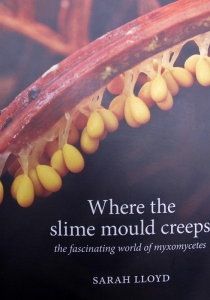 Sarah Lloyd is a Tasmanian naturalist, writer and photographer whose passion for natural history began in early childhood with a love of birds. In 2008 Sarah initiated 'A Sound Idea', a project to monitor bush birds using digital sound recorders and numerous volunteers who have made (and continue to make) recordings from Tasman Island to King Island and about 100 locations in between. Her interests have broadened in recent decades to include plants, fungi, invertebrates and bryophytes.
In 2010 Sarah started exploring the little-known world of myxomycetes (also known as plasmodial or acellular slime moulds) in the wet eucalypt forest that surrounds her home at Birralee in Northern Tasmania.
Myxomycetes are unlike any other organisms. They have two animal-like stages that move about and feed, followed by a spore-bearing stage of exquisite beauty.
Sarah will talk about her work and show photographs of some common, rare and 'new' species (one of which has been named in her honour) and the various stages in the lives of these truly remarkable organisms.
Some of Sarah's beautiful photos are included here. Click on each image to enlarge.