About 20 walkers of all ages set off from the Chewton Post Office along the Forest Creek Track on the first FOBIF bushwalk of the year. Local resident, Marie Jones, led the walk.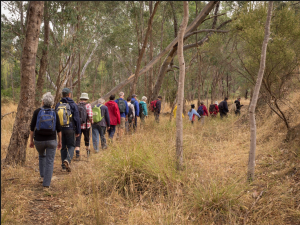 First stop was to appreciate the landscape at the Monster Meeting site at the confluence of Wattle and Forest Creeks. Then it was off upstream past the stone sculptures, the three exclusion plots erected to monitor re-vegetation taking place, the spectacular post-goldrush cliffs at Chinamans Point and several revegetation sites in the valley. Morning tea was a break called at Expedition Pass Reservoir – after the first 5.4 kms of the walk had been completed.
Leaving the reservoir the well-marked Great Dividing Trail was chosen as the route back to Chewton. Away from Forest Creek, this route heads down Chapel Street and Welsh Street before turning and climbing out of Donkey Gully. The walking track goes over the rise into Deadmans Gully where the lower adit of the Merthyn Syndicate Tunnel complex opens. This is the mine shaft that was the scene of a dramatic rescue in April 2013. The May 2013 Chewton Chat carried the details – it's available on www.chewton.net
Walking on the track peaked with a view looking down on Loddon Prison, and lunch was eaten there. It was a well-earned break, and Jennifer Pryce took the opportunity to hand out and explain a brand new brochure. This brochure highlights the environmental works of many groups working on practical aspects of the 2012 Forest Creek Action Plan and it generated a lot of interest and discussion among the walkers.
Downhill after lunch, the Garfield Water Wheel supports were the first port of call, then on past Manchester Reef and on to the giant yellow box just beyond Troll Corner. The tree is a magnificent specimen and the question was posed as to why this one survived when all the landscape was cleared not once, but many times in the years following the gold rush. Mine supports, building, industrial use and commercial firewood all added to the demands on the bush but this tree survived and it's now a Chewton icon.
After that tree, there was little to do except cross Forest Creek and walk back to the Chewton General Store for a quick debrief. 11.9 kms had been covered, lots of interesting sights and history explored and it was time for heading home.
The next FOBIF walk is also in the Chewton area – on the Poverty Gully Circuit and Eureka Reef on April 27.