Tony Morton has sent us these observations of butterflies in Kalimna Park. The photos were taken on the west side of Kalimna, in the Castlemaine Copper patch, just above the bench, in mid-April 2012. He plans to look to see if there are any signs of a repeat performance this year. This patch of the Park is due for a management burn this autumn.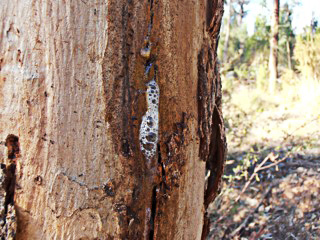 'Sap exuding from a tree often attracts insects.  This sap was oozing quite plentifully from the tree (a young Lemon scented Gum?) at about waist height.  It was very sticky and sweetish to the taste, but without any discernible eucalypt flavour.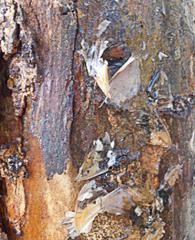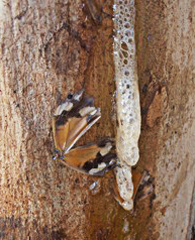 'Note the many wings of female Common Browns (Heteronympha merope), trapped in the sap, heads and bodies presumably taken by European wasps, which were in attendance (far left photo). One of the butterflies was caught as I watched.
'Also feeding on the sap were a couple of Four-tailed Emperors (Polyura sempronius).  You can see the Emperor's orange proboscis (very like the Purple Emperor's of Europe) in this photo. As they feed, head down, they shift their hindwings up and down, like a Lycaenid does.  This butterfly, endemic to Australia, is more often encountered in sub-tropical areas up the Eastern coast, but it seems to have spread south over the last decade or two.  I have occasionally seen them flying powerfully about on the Point over the last few years, but they are never common.  Flying, they look much whiter than they actually are, but they are far bigger than any other butterfly usually encountered in this area. The larvae feed on various species of Acacia.'