To celebrate 25 years of Friends of the Box-Ironbark Forest we are planning an exhibition at the Newstead Arts Hub, 25 February to 13 March 2023. There will be a new photo show; geology exhibits; children's art; and posters; pamphlets and photos about FOBIF's history.
This time we won't have a single theme for the photo show. Instead we would like people to send an image/s which shows something about the local natural environment that they find interesting or special in some way. Also we would like participants to write a short piece explaining their choice.
So if you have a favourite photo/s of the bush in our region send them along to FOBIF (info@fobif.org.au) with a description. There is plenty of time to take new photos: the closing date for the submission of photos is not till 1 February 2023.
A FOBIF sub-committee will then select approximately 15 photos to be printed and framed for the exhibition. The text will be printed and displayed next to the photo. Photos will be for sale with proceeds used to cover costs.
If your photo is selected, as well as being included in the exhibition, you will receive a free copy of your photo. Ring Bronwyn Silver 044875111 for more information.
CONTRIBUTORS
Joy Clusker
Mount Alexander is wonderful on an autumn morning, midweek you can have the place to yourself. The mist hangs around till lunchtime, casting a mysterious veil over everything. In the silence all you can hear is water dripping from the trees, and calls from the Sulphur-crested Cockatoos. Then from out of the gloom is a shine from a perfect Earthstar, Geastrum triplex, still dusted with water droplets, contrasting with the dark forest floor. A fleeting occurrence witnessed by few, busy working on its purpose to consume the substrate and reproduce itself.
Mike Evans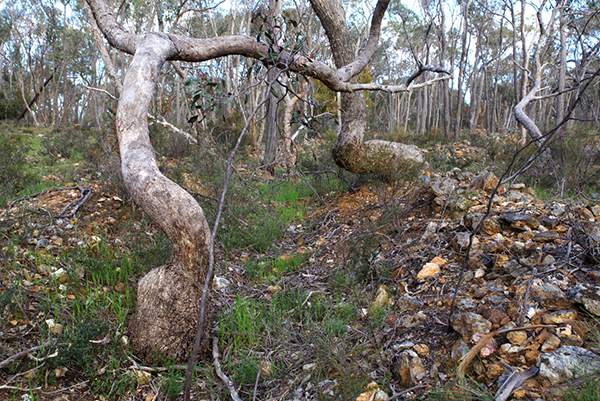 I live in Peelers Road Barkers Creek and the Harcourt Bushland Reserve is an area that I walk in every day.
Chopped down, Dug up and Dumped on, is the saying that Barkers Creek Landcare Group president Daryl Colless uses to describe the recovering goldfield site that is now called the Harcourt Bushland Reserve.
It is a piece of land that has been turned over probably more than once since the arrival of the first prospectors in the late 1800s. You can see the evidence of mining everywhere, from holes both square and round, bare ground, stripped of any nutritious soil, large excavations leaving scars on the landscape and evidence of the last area in the district to give up sluicing because of the silt flowing into and degrading Barkers Creek.
However, nature has remarkable powers of recovery and even though it's a struggle this area of bush shows its resilience with many species of wildflowers, birds and fauna.
Trees that look tortured have survived to provide habitat for the birds, insects and other fauna here.
The Yellow-tailed Black Cockatoo passes through here regularly. Certain areas put on colourful displays of wildflowers and it is home to a number of wallabies and kangaroos.
Alex Panelli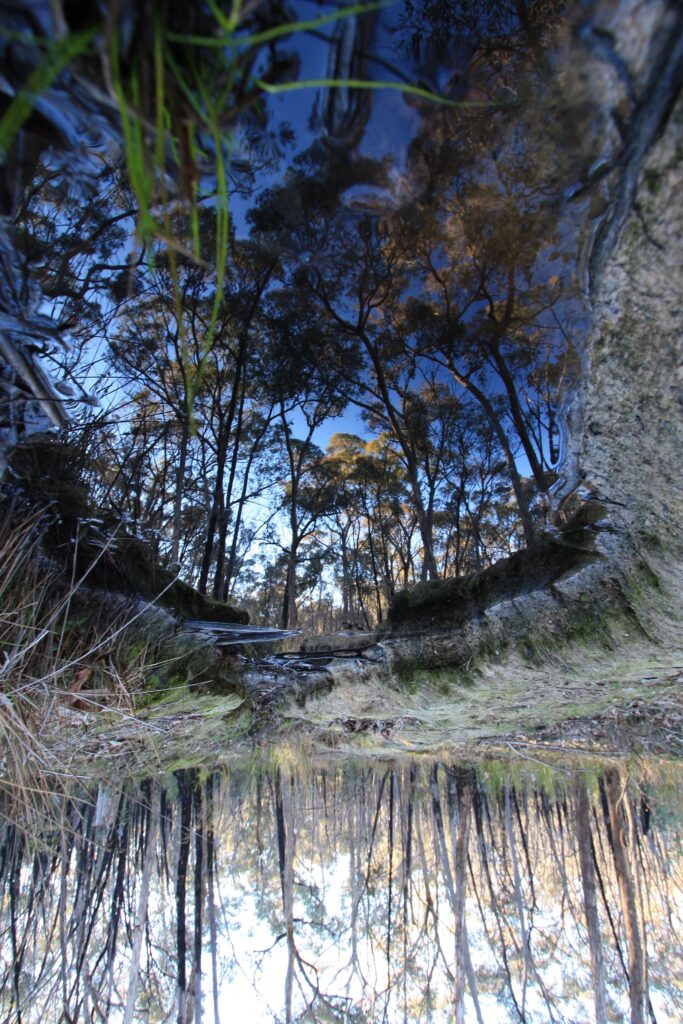 What matters to me about this country is its happening. It happens with me now, up close and all around. I am immersed in it, psychologically entangled. There are foreshadowings here and absences; offerings and traces.
It was in my childhood and with my family that I first came – to an ancestral place, seemingly empty, waiting for us. Much later, in 2009, it drew me again. I came, this time alone. At first then I took photos mainly of flowers, but there were also the slim trunks of Candlebarks wavering in the glow that comes through fog when the sun is rising. I moved on to tangled bush and singular trees, still often in fog or deeply shaded frost with the sun beyond them. I lay on the ground, took photos through grass. In the dust of summer, photos of shadows, myself amongst them. Torsos of bravely dying trees, and of human things discarded. Of fallen leaves in amber water in the hollows of a stream, and of reflections on a pool of water's surface.
Looking at these things later, I was disappointed. I am not a great photographer but that was not the problem. Slowly and more deeply I came to realise, however consummate a photo may appear, each thing that joins our gaze – the intense self-presence of an opening flower, the living poise of a bird, whether at rest or in motion, or the decaying, life-giving looming of an ancient tree that waits to fall – they are with us, we meet. Each meeting – a mutual exposure – we are in it, it can surprise us, it leaves a trace. And each one joins us intimately with all that is unfocussed and still unsaid around it. I would like my photos to acknowledge this.
Bernard Slattery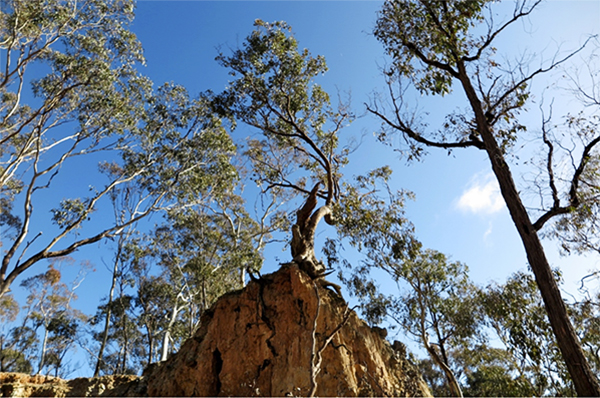 Disaster chic
Bushland reserves are often blocks of land left over after being thoroughly thrashed: having been exploited to the hilt, they're rather flatteringly named 'reserves' and left to a kind of benign neglect. Battered though they are, some of them contain amazing biodiversity.
There are quite a few in this region, and I used to have a compulsion to cycle around the country checking them out. One of the most striking is the disused mine and quarry workings at the south end of Blanket Gully road: Guildford Bushland Reserve.
What can you say about this amazing place? It's hard not to be horrified by the impression that some monster has torn through it in a fury, then left without a backward look. In a way this is true: the site seems to be a relic of times when miners weren't obliged to rehabilitate their works.
On the other hand, there's something mesmerising about the place: the colours, the extraordinary scars torn through the landscape, the heroic efforts of the vegetation to re-establish itself—all this tells a dramatic story, and, what's more, a story which has a way to go.
And there's a certain embarrassment in the site, as well. We may choose to be disapproving of past practices, but there's a bit of truth in the aggressive bumper sticker proclaiming that 'everything you own, wear, use, and eat has been cut down or dug up from the ground'. This site is challenge: 'you don't like it? Well, do better.'
Patrick Kavanagh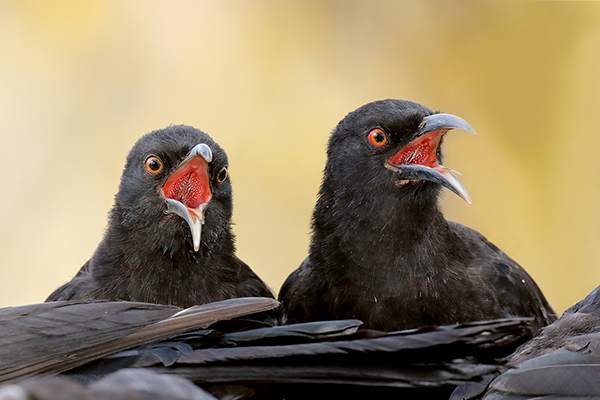 The first sound we heard when we first walked onto our place in 1994 was the haunting call of White-winged Choughs, Mooyin-unkil in Dja Dja Wurrung. They are such a presence in our bush at Strangways that we really imagine them as the landlords and landladies. They delight us constantly with their antics, especially when they are building their wonderful mud nests and come into our bird baths covered with mud from their labours.
Jeremy Holland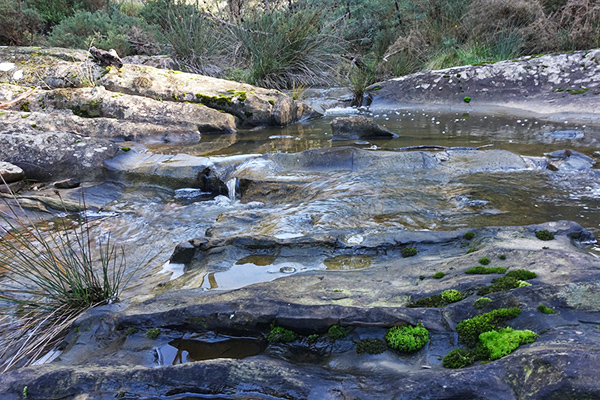 For me one of the most endearing features of our bush is its generally open nature.
This allows for relatively easy and enjoyable walking away from roads and tracks following natural features such as ridge-lines, spurs, creeks and gullies.
It is such a pleasure to be able to plan out a route and then proceed with it and thoroughly explore an area.
One of my favourite areas for this is around Tarilta Creek with its beautiful grassy flats interspersed with steep cliffs and interesting side gullies, sometimes with an occasional waterfall.
Jane Rusden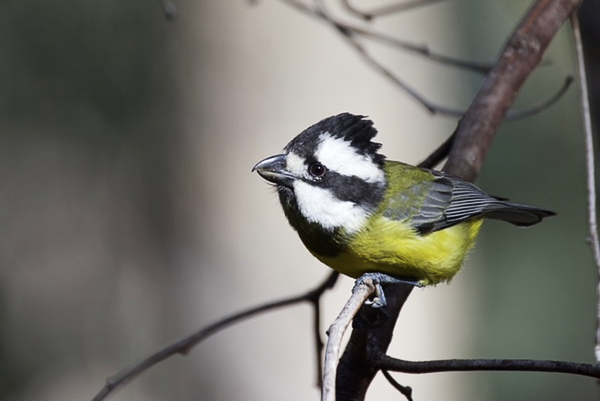 Crested Shrike-tits live along side us on our bush block, particularly in spring, they can be easily seen on a day basis which is a huge treat. The gully is full of Greybox and Whitebox, it's a dry grassy woodland EVC. Often I hear them tearing bark as they search for an insect meal, which is how their presence is commonly discovered. I love their black crest, which looks like a Mohawk with a good dose of attitude. Their splash of vivid yellow is a welcome sight during cold grey days, which never fails to light my spirit.
Janet Barker
My knowledge of the local bush 25 years ago was just about zilch. I had just moved here. It was a dry year, the bush looked sparse, struggling and unspectacular. My eyes saw mined, chopped and burnt landscapes. The weeds.
Fast forward to now. I still see the dug-over, deforested, burnt and weedy! But also its true nature. Wonderous, opportunistic, stoic, complex, delicate. Beautiful.
I love the distinct seasons in our local bush; the arrivals and departures of birds, flowers and creatures give my year a structure and flow. My favourite thing is to go for a morning or evening wander without clear destination in mind, and wait for the reveal.
Maybe it'll be….. a perfect orchid sprung pure overnight from a mullocky bit of ground……the summer shimmer of spear grass heads …… beautiful decay of gum leaves…… soft autumn's morning moss beds and spiderwebs ….. rain abstracted yellow gum bark and the smell of coffee bush …… the on-high hum, chatter and screech from inside a flowering yellow box …… mistletoe leaves ablaze …… light and shade laid over rock and wells, scar trees …..
Damian Kelly
The joy of little things
I like to observe the little things in the local forests. Muddy puddles on isolated bush tracks are often just ignored by walkers but can be a hive of activity. By adopting a low profile and exercising some patience you can be privy to many interesting things.
This image of a young Golden Whistler was taken not far from Railway Dam. The puddle was popular with several different birds. Silvereyes, Eastern Yellow Robins, Fuscous Honeyeaters and this Golden Whistler all frequented the puddle over a period of 20 minutes whilst I sat quietly leaning against a nearby tree. Interestingly, it was taken in June when the temperature was only 12°C. Birds love a splash no matter what the weather.
Christine Henderson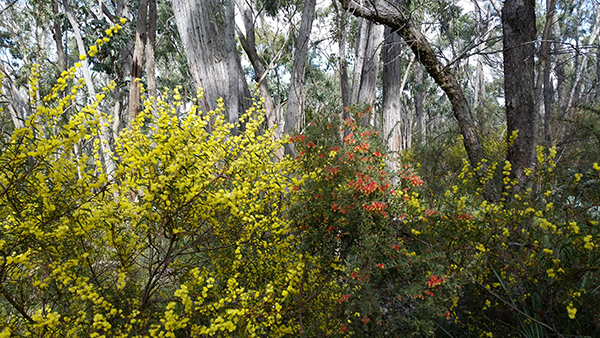 The spring wildflower season is a remarkable time. As lovers of flower displays we may visit public gardens, and open private gardens, but there's little that can rival the audacity of wild abundance on display in certain locations in the forest during the spring months. This photograph captures a happy association of Woolly Wattle and Downy Grevillea. You can walk, easing your way gently through these bushes, some head high, for several hundred metres in the forest near where Rilens Track leaves Webbs Track, just off the Taradale-Fryerstown Road.
Standing stone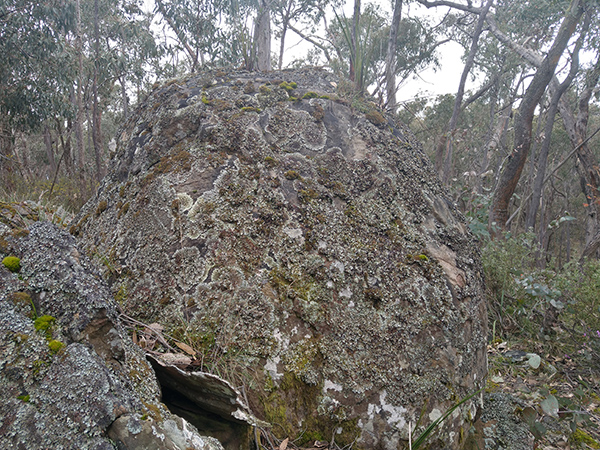 It's probably fair to say that most places in the forest are rarely visited by humans. Bushwalking is not a mainstream activity, although it's good to see an increase in people exploring our local forests, using the network of Department of Environment forest tracks. In the cool weather I like to explore the forest off-track, to feel the different moods in the variety of valleys, hillsides and occasional rocky ridges. Geology tells me that the land is ancient. Some 400 million years of being here without major disruptions. No ocean inundations, no upheavals and contortions after the initial mountain-building period. I try to imagine the mountain peaks that stood on the main ridge of the forest, the slow weathering away, the gradual carving out of the valleys. There is a standing stone in the forest. The only one I know of. Naturally occurring, not a human artefact, it's a master of camouflage, lichens helping it blend into its forest backdrop.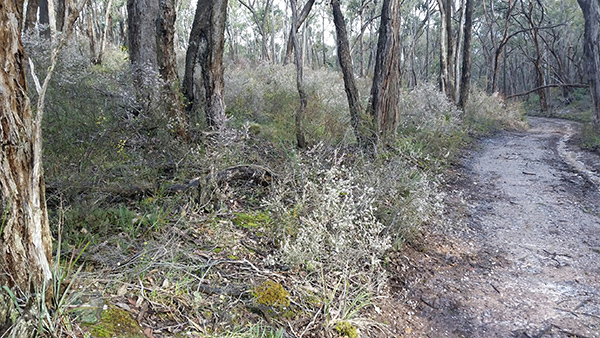 While the spring wildflower season gets underway with Rough and Woolly Wattles, , Pink Beard Heath Leucopogon ericoides is one of my favourites. Walking along a forest track, coming around a corner and there it is: the scrubby, half-dead straggle of understory transformed into a magical white mist hanging between the trees. Forest becomes fairyland.
Philip and Judy Hopley
We enjoy searching the local bush for native orchids. Each season we return to places where we have previously seen orchids flowering.
In summer we look for the beautiful Rosy Hyacinth Orchid (Dipodium pardalinum) and sometimes come across the spotted species as shown in the photo.
In autumn we look for a variety of orchids including the Dark Midge Orchid (Corunastylis aff. rufa) that although common is not easily seen because of its size.
Towards the end of winter we return to where we have seen Greenhood Orchids flowering. These include the Woodland Bearded Greenhood (Pterostylis sp. affin. plumosa) with its hairy tongue.
Waxlip Orchids (Glossodia major) flower in abundance during spring providing a vista of blue/purple as we drive along bush tracks. They are a favourite with their vibrant blue, mauve or purple petals and intricate labellum. Our young granddaughters call the one in this photo the fairy orchid.
Also in spring we are on the lookout for Sun Orchids and are thrilled when we come across some of the species that are less common in our area such as the Crimson Sun Orchid (Thelymitra xmacmillanii) with its lovely pink to crimson flowers.
Philip Ingamells
There are so many ways to see the natural world: as a complex web of interdependence; as a tough dog-eat-dog world of competitiveness; as a fragile, broken system now in need of rescue. All of these, and more, are valid views.
But for my pleasure, I can't help seeing the natural world as something that outperforms the finest of our designers, architects, engineers and decorators. Evolution has produced a myriad of lifeforms that, at close scrutiny, startle us with their subtlety, their grandeur, their efficiency of design and their downright stunning beauty.
We can track the refinement of individual species through zillions of modifications over millennia, through the rough and tumble of survival, or we might see the trace of some guiding cosmic hand. Whatever remarkable path we might attribute nature's evolution to, it has produced a glorious heritage, worthy of the utmost respect from us as individuals, from our land managers, and from those who govern us.
Its protection should be 'core business' for any responsible society, yet recent generations have put unprecedented pressure on what remains of that heritage.
We too are a product of that journey, part of evolution's family, but we are a long way from ensuring that the family will survive.
Euan Moore
A Visit from the Emperor
The Sugar Gums at Kalimna Point, while not native to the area, provide resources for many of the smaller animals that live in our forests. One of the larger trees on the slope below the rotunda has been used by Sugar Gliders whose sharp teeth have cut into the bark causing the sweet sap to ooze out. This sap is the nourishment which the Sugar Gliders seek. It continues to bleed long after the gliders have retired to their hollow at sunrise.
The sap provides a bounty for insects that would otherwise be seeking nectar from flowers at a time of year when there are fewer plants in flower. Word, or the scent, had obviously got out. On a warm January morning there was a cloud of butterflies feeding from the Sugar Gliders' table.
Tailed Emperors are one of our largest butterflies. Their wingspan can be up to 85mm. The photo shows one sharing the 'table' with a Yellow Admiral as they feed on the white frothy sap. At the lower right is a scar from an earlier visit by the Sugar Gliders.
There was continuous activity at the tree as the morning warmed up. Common Browns were there by the dozen. There were numerous Yellow Admirals, an occasional Marbled Xenica and of course the Tailed Emperors. There were even a few insects that had become trapped in the sticky treat. Will these be the next round of fossils preserved in amber?
We don't see Tailed Emperors in Victoria every year. They are more common in northern New South Wales, Queensland and the Northern Territory. There were several sightings around Castlemaine in 2012 but few since until they showed up again this summer. It may be that the very wet conditions further north have enabled their numbers to increase.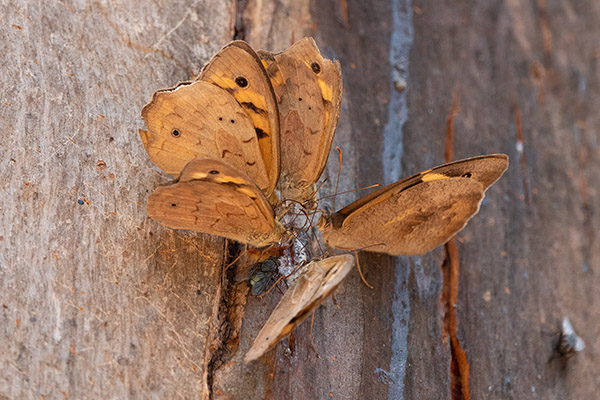 Max Schlachter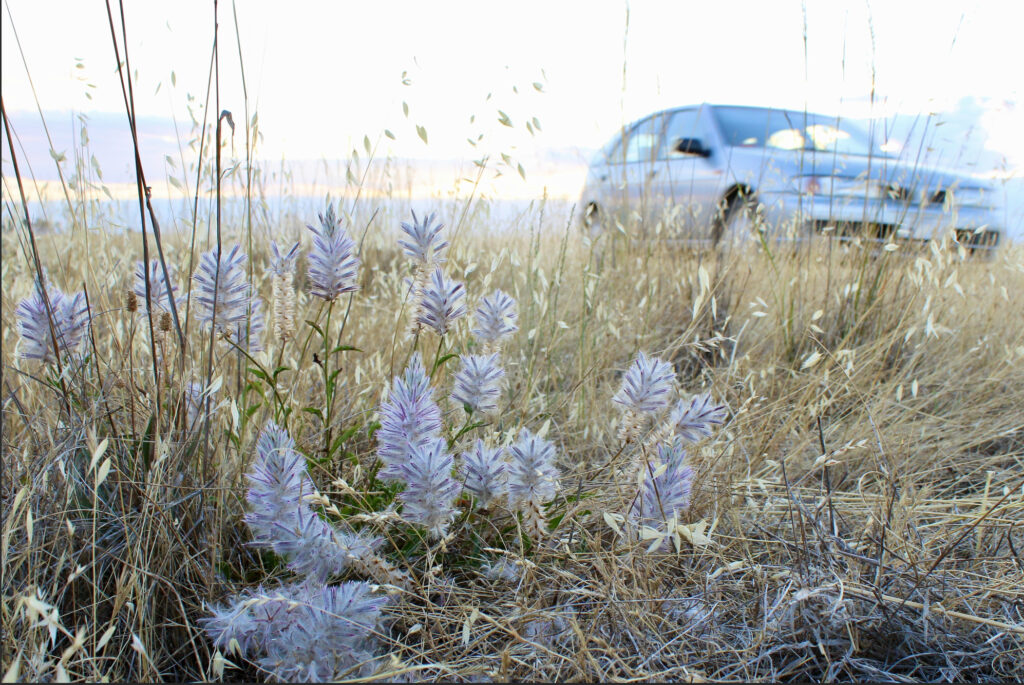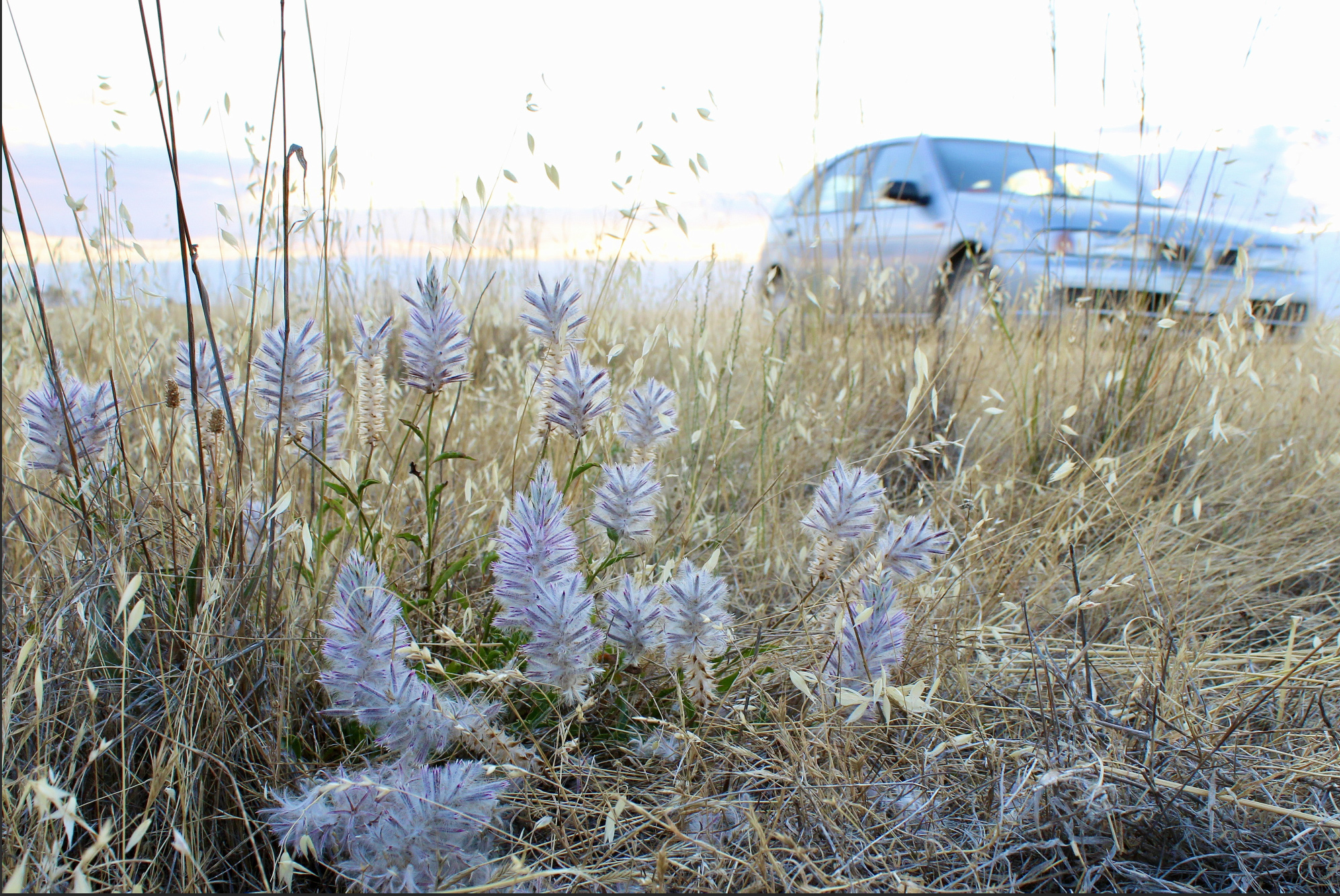 TRANSCRIPT
AUDIO INTERVIEW
CBA RADIO NATIONAL
2 FEBRUARY 2014
SUBJECT: Pink Mulla Mulla (Ptilotus exaltatus)
LOCATION: Baringhup West, Victoria
Host: Mulla Mulla, it's such a beautiful name. Where does it come from?
Mulla Mulla: It's a family name. Goes back for generations.
Host: I've also heard you called 'exaltatus'. Sounds very grand!
Mulla Mulla: Well you wouldn't know it now, but we used to be a very well-respected family in these parts. I don't want to grease my own wheel or anything, but we were kind of a big deal.
Host: Oh right. And how do you feel about living on a roadside now?
Mulla Mulla: It's tough for sure. I mean, we used to live all over these plains and now we've been pushed right out to the margins. We get rubbish thrown at us. It's embarrassing actually. And the way things are going we won't own any land at all in a few years.
Host: That's very sad, I'm sorry. Do you ever wish you were born a canola plant?
Mulla Mulla: Never! I'll be damned if anyone is going to press me for cooking oil.
Host: Thanks very much for your time today Mulla Mulla.
Mulla Mulla: Any time Max. By the way, your car really needs a wash.
ENDS
Pam Connell
Yam Daisy/Murnong
In spring I love to wander through the bush watching it come alive with a diverse array of colourful wildflowers. Small and unassuming they are intricate in design and deserving of closer observation.
I take many photos but I've chosen this one of the Yam Daisy, or Murnong as it was known by the aboriginal people, because it is such a 'happy' flower to see with its brilliant yellow petals, but it unfortunately reflects a sad period of our history.
Valued for its tuberous roots Murnong was once an abundant, staple, cultivated part of the Aboriginal diet. Early settlers described 'fields yellow with daisies' which alas are no more. Sheep and cattle trampled and grazed the crops to near extinction so that nowadays it is seen mainly in woodlands either singly or in small groupings. Its nectar attracts a variety of pollinators. This one is currently playing host to a hoverfly and an ant.
But there is hope..Local conservation groups working alongside Aboriginal elders and a growing commercial interest in 'bush tucker' means we may once again see fields 'yellow with daisies'.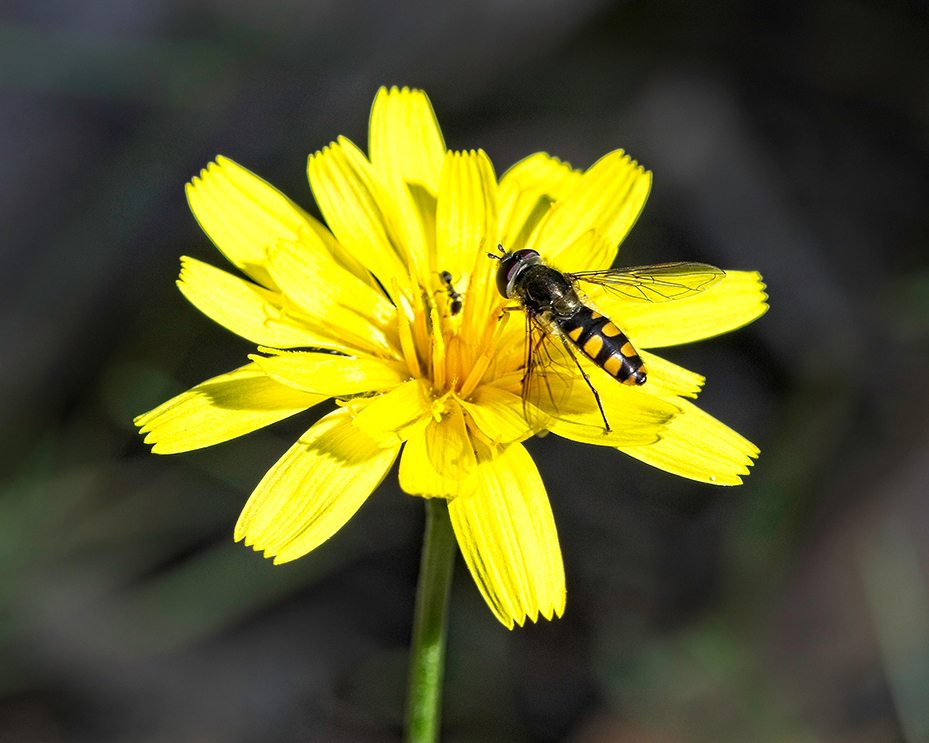 Harry Zable
Spirits of the Box-Ironbark Forest
Prior to colonisation, most of the Box-Ironbark forests of Central Victoria consisted of large, widely spaced trees. The forests provided the local first nations people, the Dja Dja Wurrung, with wood and bark for many purposes such as making wonguim (boomerangs) and willams (bark huts). After colonisation many of these big trees were cleared or cut down for dwellings and firewood. However, due to the practiceof 'coppicing' (cutting down the trees at the base, leaving the roots intact), new trunks grew from the living underground roots, and the Box-Ironbark forests of today emerged. (Source: Electronic Encyclopedia of Gold in Australia).
As I walk the tracks of these beautiful forests I often see, in the intertwining trunks and dead or rotting stumps, strange faces and creatures: melancholy spirits from a lost, pre-colonial Eden.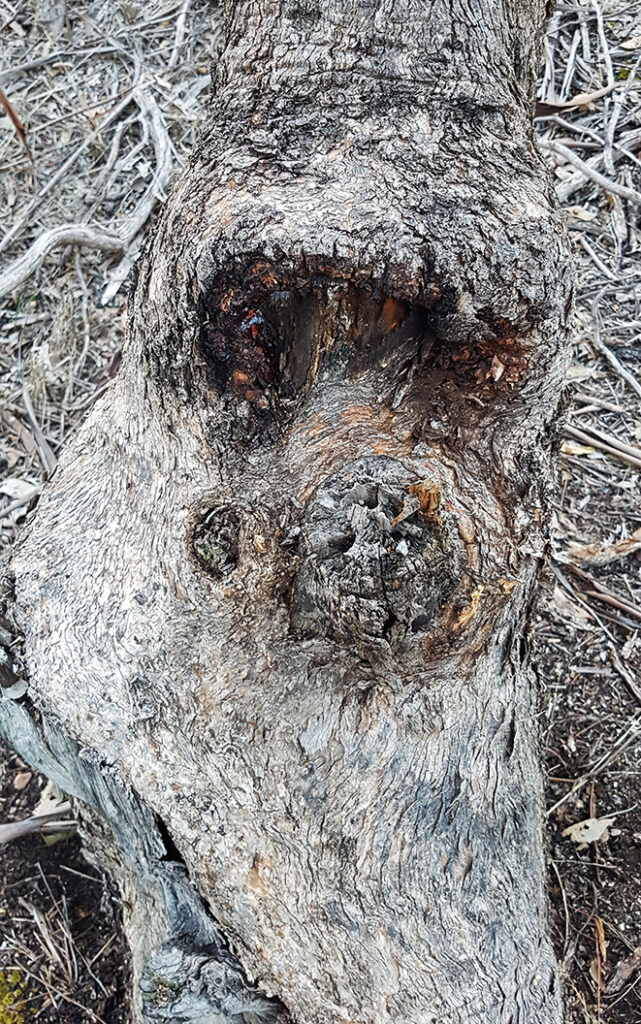 Bronwyn Silver
Dawn at Bells Swamp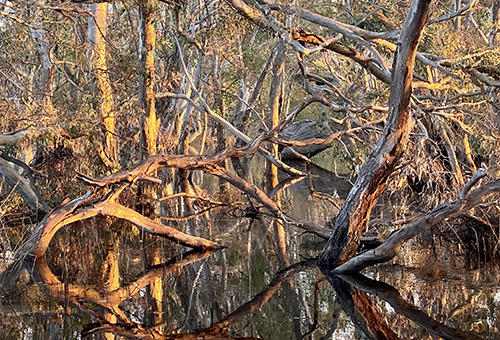 Our region is not known for its wetlands but Bells Swamp covers about 40 hectares at the very northern edge of the Shire. Most of the time passers-by on the Maldon-Bridgewater Road see only an unremarkable area of River Red Gums surrounded by farming country, but in a wet year the swamp becomes a stand-out landscape.
In wet years like 2011, 2016 and again in 2022 it is transformed into a wonderland of wetland birds with the River Red Gums and wetland plant life flourishing after years of drought.
Bells Swamp was dry between 1996 and 2009 but flooding after heavy rains beginning in late 2010 meant the swamp was still more than a meter deep in places in November 2012. After the 2022 rains it is again pretty deep and likely to be flooded for many months.
Reflections of the tangled wetland vegetation are especially stunning at dawn when the light is soft and golden. It's worth getting up for.
Liz Martin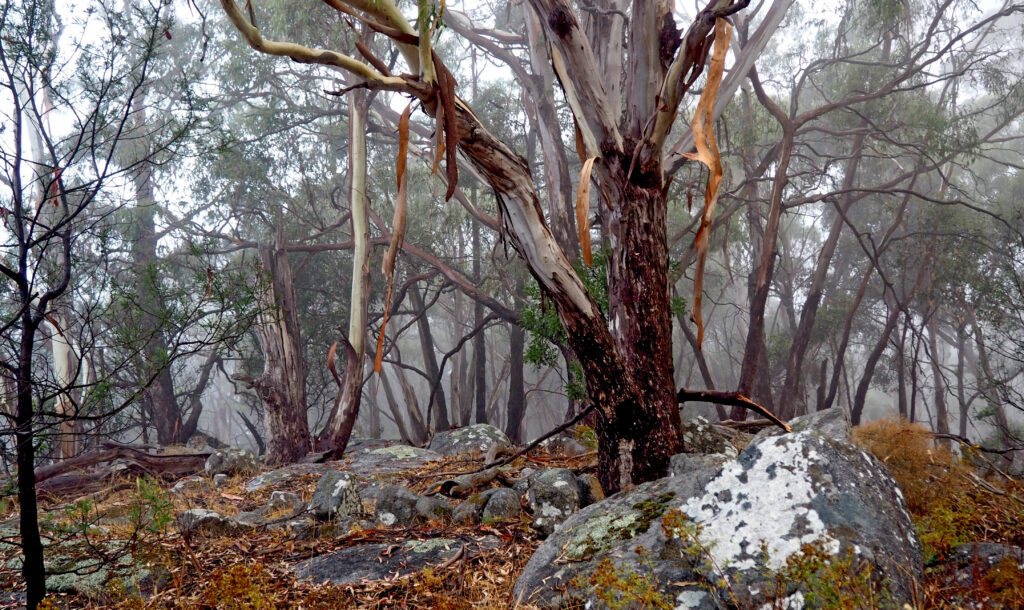 Mt Alexander/Leanganook
I love to wander the ridges and gullies.
I often walk and find new places that I name. Valley of the dead trees is one.
The different environments from the summit mist to the drier valleys are all worth exploring.
It is also a place for family walks and celebrations at the picnic ground or Dog Rocks.
I love the misty days and the ancient rocks: the moss beds and the fascinating fungi.
It is also my refuge when life gets overwhelming and I wander the different areas with my camera, seeking out the leaves that have fallen, lichen on the rocks and look forward to the fruiting of the mosses.
Frances Howe
Myrnong recovery
It takes time to understand the land. When I first came here I loved the beautiful Yellow Gums. I knew a little about the gold rush.
Over time I came to realise the immense disruption of the landscape from waves of uncontrolled mining, timber cutting and grazing. I saw what was missing: the lack of understorey plants, the coppicing instead of large old trees, the damaged creek lines, the absent topsoil, the loss of birds and other woodland creatures.
Now I see the resilience. The tenacious eucalypts grew back. Incredibly, other indigenous plants and animals somehow survived the upheaval. Murnong /Yam Daisies were once widespread before sheep arrived and decimated this major food source nurtured by First Nations people. It will never be the same as before, but when Murnong daisies pop up at my place, it's a sign that recovery is possible, given time and space.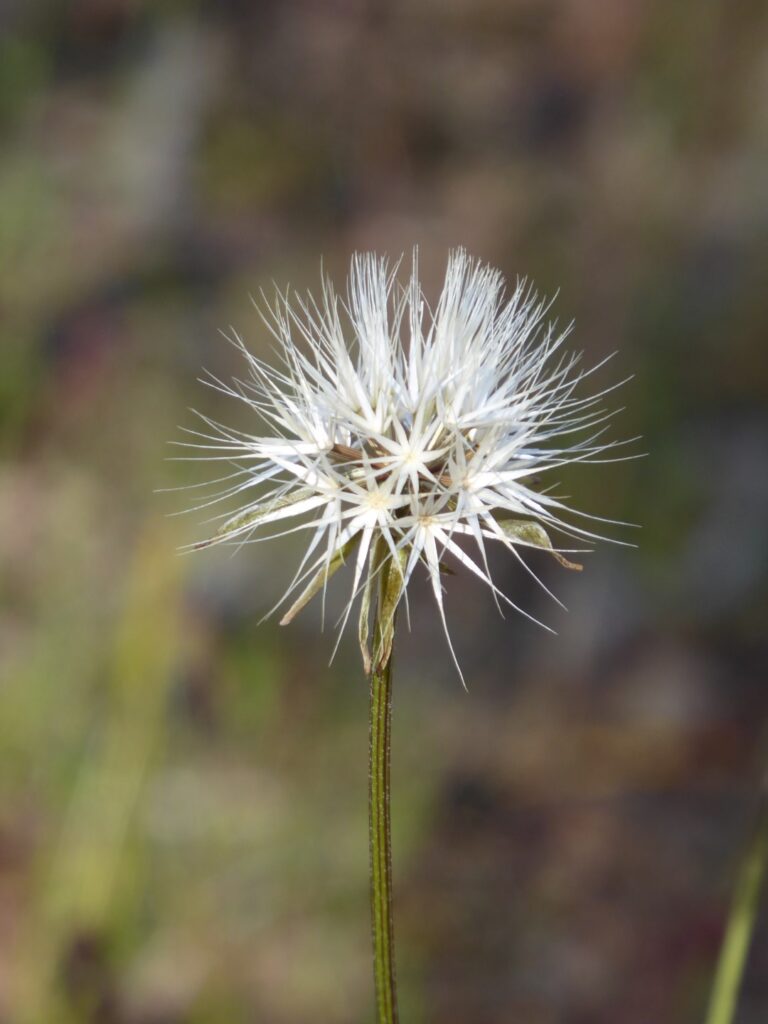 Cassia Read
My regular walking route takes me away from clipped gardens and solid fences, into the rhythms and relationships of Box-Ironbark forest. Leaving the tarmac and stepping onto a dirt track, my senses switch on and my mind shifts gears. Calls from a mixed flock of birds foraging in the canopy lift me out of my head and into this place. I relax, slow down and tune in. What starts as a 'power walk' inevitably becomes a sporadic gait, punctuated with moments of bending, kneeling, observing and recording. Alert to detail and small things, I walk on my knees and observe relationships unfolding that I miss when moving fast with a busy mind.
During a quiet moment, when the sun sits low on the horizon, I will survey insect activity by squinting and blurring my vision. Any wings in the air appear illuminated. One morning I saw a flicker of wings near my feet. It was the shining transparency of a lacewing, grasping a sundew bud and standing on guard above its delicate eggs. I worried for its brood hatching above the sticky pads of a carnivorous plant. But perhaps hatching would wait until the plant dried off in late Summer? And perhaps, until then, the sundew would catch any predatory egg-eaters?
Since moving to Castlemaine I've been working to increase the cover and diversity of indigenous plants in my home garden. Now I see complex relationships unfolding at my back door. Last Summer I watched the spread of mealybugs on my favourite Varnish Wattle. The shrub was littered with tufts of mealybug 'cotton'. Each tuft protected a soft bodied, sap-sucking bug. In a moment of blurred 'survey' vision I noticed the shrub was thrumming with insects. Tiny ants and colourful native wasps were whipping from one mealybug tuft to another. On close inspection I noticed a droplet of nectar was exuded from each tuft. The wasps and ants were feasting on the droplets. A male flower wasp arrived with a flightless female attached. He'd brought her to drink the nectar as part of their courtship ritual. A family of tiny, parasitic chalcid wasps built a nest by sticking together three small leaves. They had likely chosen this wattle so they could parasitise the nectar-loving wasps. In all I counted eight species of native wasp and several species of ant frequenting my wattle. The mealybugs were providing an important nectar resource during a month when flowers were scarce in the local bush and in turn, they were growing my garden food web.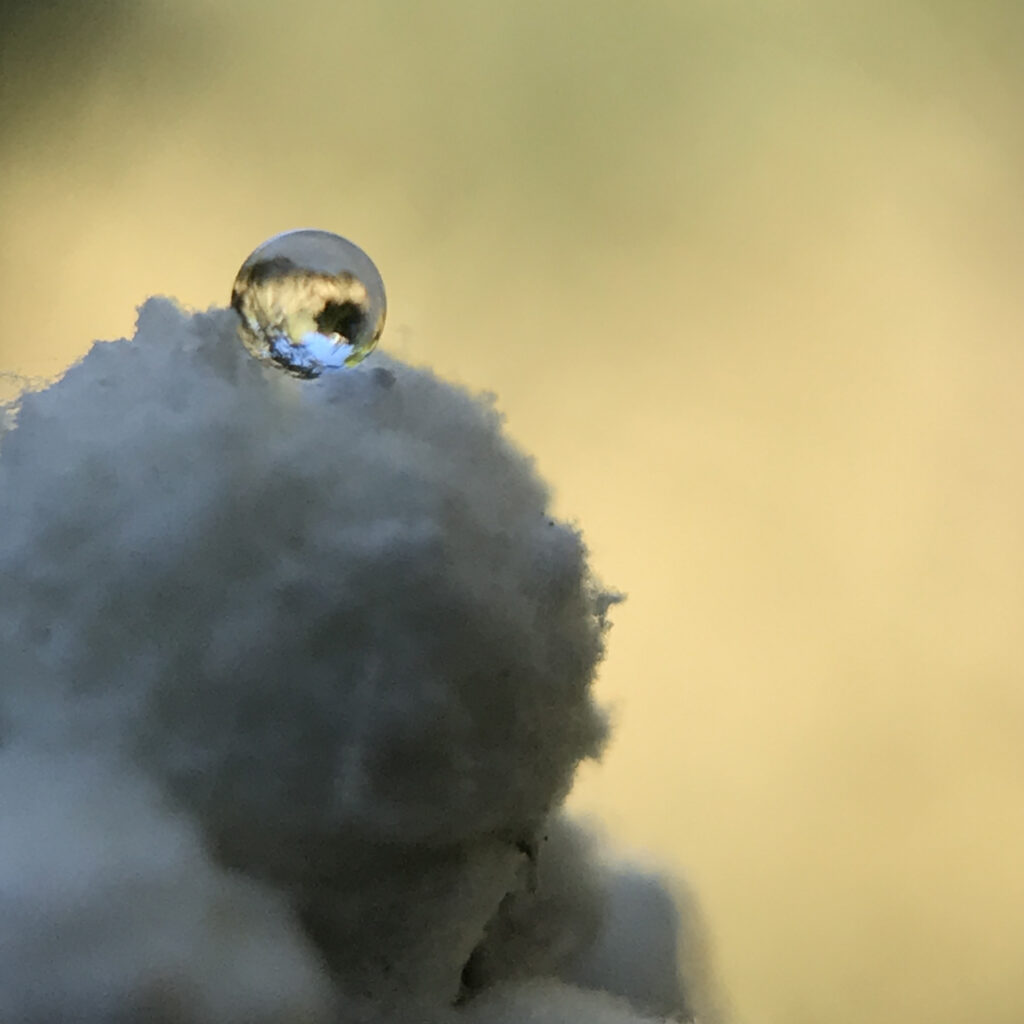 Frances Cincotta, photos by Geoff Park
Guardian Angels
A pair of Tawny Frogmouths choose a small, dead branch on the Yellow Gum tree at my gate as their favourite Winter roost. I am continually delighted that they are so devoted to each other, and so loyal to this particular tree, in fact to a particular branch! I think of these Tawny Frogmouths as my Guardian Angels, and folk walking by or visiting my nursery often look up to that branch to see if the pair are 'on duty'. Their stoic daily presence, sitting out the three cold Winter months (when I am prone to getting the blues) is very comforting, even though they are mostly sleeping, not actually watching over me.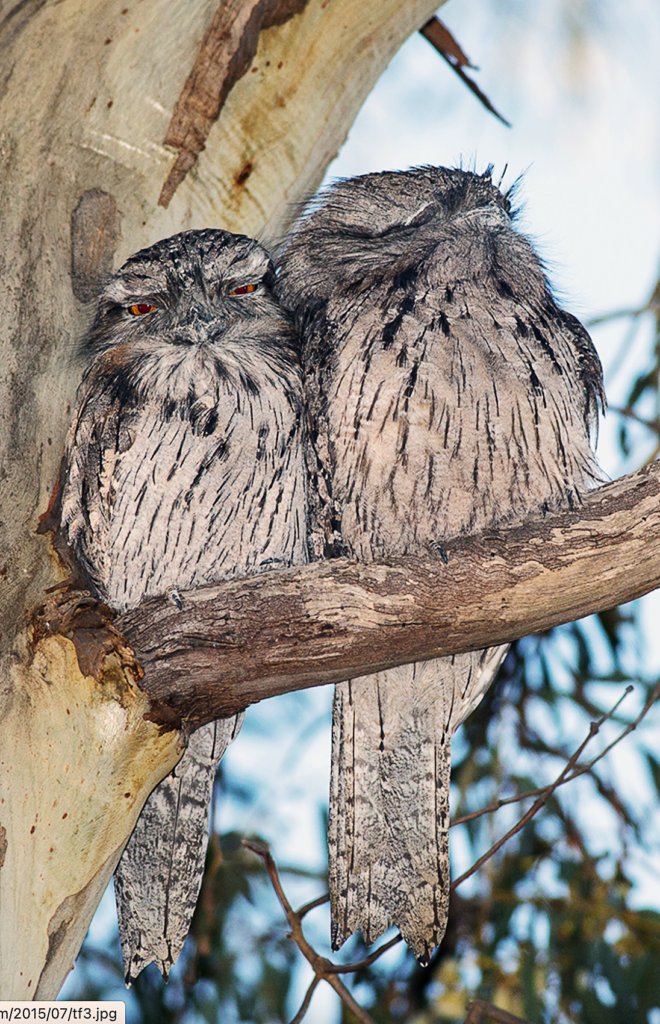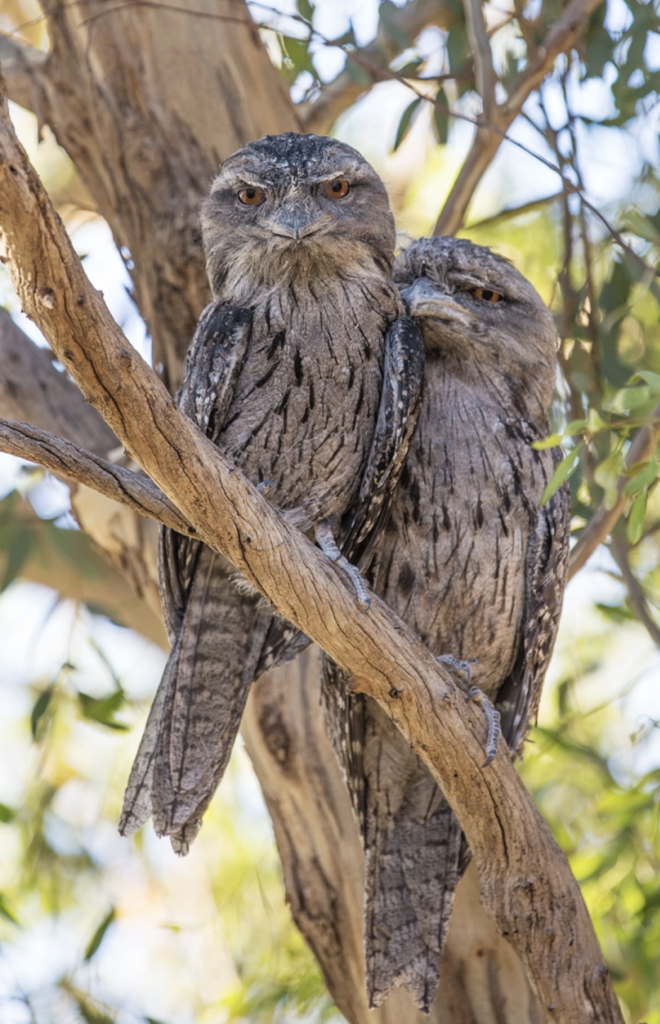 Followers of the wonderful Natural Newstead blog will know that Geoff Park has photographed the 'Newstead Natives' Tawny Frogmouths many times over the last decade, and we have shared the joys and sorrows of their family life, including the death of a nestling, and the rescuing of another (thanks to WM Environmental who sent a man with a cherry picker to put the small, fluffy bird back into the nest it had fallen out of).
We don't always find where they nest in Spring, but we see them with one or two young in mid-Summer most years.
Noel Young
The little things that count in an ecosystem
A superficial impression of our dry forests is one of struggling regrowth over an area devastated by extensive mining in the 19th century and beyond which caused widespread soil depletion and valleys drowned with sludge for many kilometres.
Looking again we can see recovery and adaptation in progress; many moss mats binding soil together, and large numbers of Sundews which reflect the nutrient – poor soils. And especially in Spring when the bush sprouts extensive tracts of small but colourful wildflowers.
The heathy shrubs covered in flowers and the many orchids and other flowering plants bloom for a short time, and must be polinated. Most of this activity is carried out by very small insects. Many orchids are known to be so specialised that they rely on attracting one particular species of wasp.
Most of these insects escape our notice unless we see them in the course of examining flowers closely. You may see a Fruit Fly balanced on a petal of an Early Nancy. Tiny flies or wasps can sometimes be seen when trapped by the sticky tentacles of Sundews which rely on them for nutrients, or perhaps in the clutches of a Jewel Spider.
A closer inspection is a wonderful revelation of the complexity inherent in this ecosystem.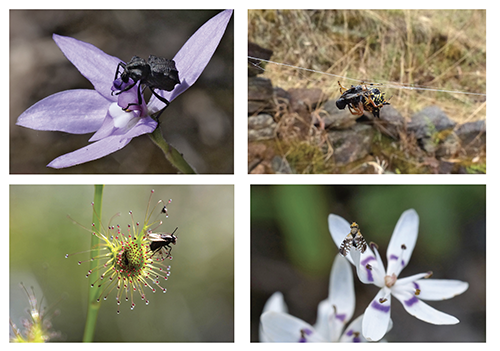 Barb Guerin
When we moved to Castlemaine in 2009, the bush near our home had been recently burnt by the authorities, upsetting many locals. However, for an Asset Protection burn it turned out to be an excellent Ecological burn. The Box trees survived with just some black scarring and the burnt ground became a mass of Grey Everlastings. Then over the years other species appeared in the understorwy. In 2017 it was Rough Wattle's turn. This photo was taken in September 2017, a bit after 6 pm. The coppiced trees, of modest colour and form anyway, are fading into the twilight leaving the Rough Wattle to truly dominate along with a few Golden Wattles. FOBIF's Wattles guide describes Rough Wattle as "one of our showiest wattles in flower". And 2017 was, I think, an extra special year for them.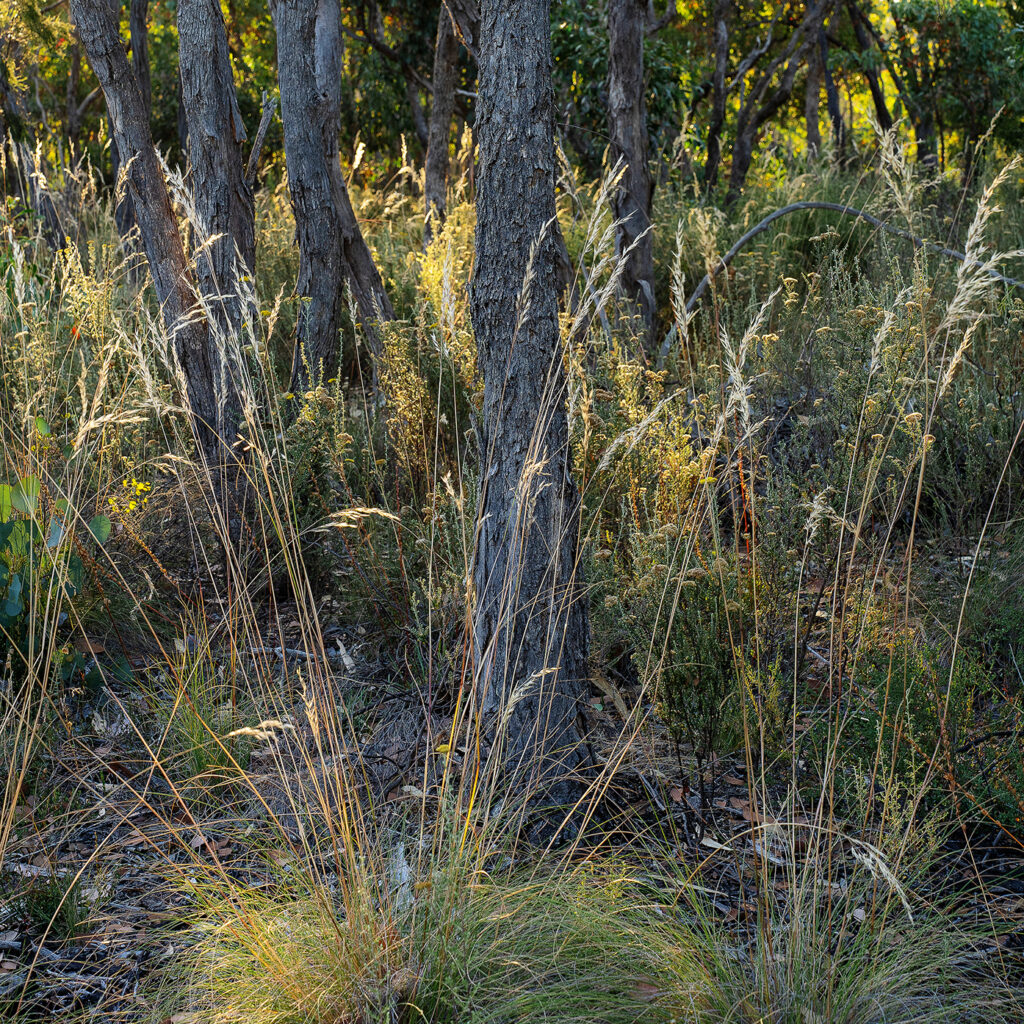 Barking Owls, Newstead 31 October 2017
In recent years I've been fortunate to observe a number of pairs of Barking Owls Ninox connivens in the Newstead district. They are fascinating birds, less common than either of the other two Ninox owls that occur locally, the Powerful Owl and the Southern Boobook. Borrowing from the notes of Chris Tzaros in Wildlife of the Box-Ironbark Country (2nd ed.).
Barking Owls … Occur mostly in the eastern Box-Ironbark, especially around Chiltern-Wangaratta (one of the remaining strongholds of the species in south-eastern Australia). Isolated occurrences further west through the north central region, west to around Dunolly. Box-Ironbark population estimated at around 25 breeding pairs; recent evidence suggests ongoing decline … Strongly favour forest edges … along creek lines surrounded by open woodland. Nocturnal and often crepuscular. During day, roosts among foliage of eucalypts, often Red Box, Long-leaf Box or White Box, or dense wattles … Often hunts at dusk while still light. When breeding, mainly hunts birds, such as magpies, rosellas and choughs, and small mammals, such as rabbits, gliders and bats; takes mostly large insects when not breeding … Calls often at dusk and dawn; distinctive dog-like bark, wook-wook, and occasionally a trembling scream likened to a distressed woman.