We don't often see mesa-like hills in Victoria but the Guildford Plateau is a wonderful example. The story starts around 40 million years ago when the ancient Loddon River carved its way from the Glenlyon headwaters. This was a vigorous stream in a high rainfall period. The deep valley was full of rainforest species, ferns and maybe the odd freshwater crocodile. Over time the Loddon valley filled with clay, sand, gold and gravel forming a stream bed up to 50 m thick.
But in one catastrophic event, within the last 4.5 million years, the Glenlyon volcanoes sent a rush of lava northwards. Lava spread like honey seeking any valley it could find and instantly buried the ancient gravels and their contained gold.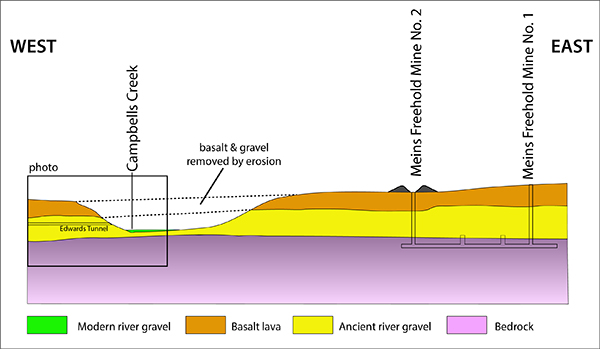 Since then, erosion has lowered the entire surrounding landscape – but not the hard basalt. The basalt was carved away in some places but mostly it was left high and dry as a series of isolated mesas, like our beautiful Guildford Plateau.
This is the second post in our geology series written by Clive Willman.