Come along (via Zoom®) to FOBIF's AGM (7:30 p.m. on Monday the 9th of August) and hear Ian Higgins speak on:
"Everything you wanted to know about the plant world's third most diverse family but were too afraid to ask".
Yes, the "Fabaceae" family, aka peas and relatives has just won the bronze medal for species diversity (right after orchids and daisies)! But was it cheating by branch stacking? This family recently experienced a dramatic increase in the number of its species.
What happened?
What is the Greek word for branch anyway?
Why is this family the world's most important source of plant resources that support humans (and the rest of the planet)?
Did you realise, that before Europeanisation, our district used to be much richer in species of this family?
What's gone missing and why?
What is the role of phosphorous and why is spreading "super" such an un-Australian activity?
What's the connection with butterflies?
What is plant blindness
Why should I care about plant identification?
Ian will reveal answers to all these questions and more as part of the launch of FOBIF's marvellous identification booklet: "Native Peas of the Mount Alexander Region".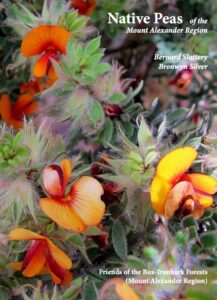 Members and supporters who wish to attend can register by emailing FOBIF (info@fobif.org.au). We would like people to register 48 hours before the meeting. People who have registered will be sent a login link before the meeting.