Noel Young sent us this report on the September FOBIF walk:
True to its name the Wattle track was rich with flowering wattles. In pleasantly mild conditions, walkers covered nine and a half kilometers through a variety of bush with many plants awakening to flower a little late after a cool dry winter. The flowers I managed to list were Downy Grevillea, Early Nancy, Hovea, Billy Buttons, Purple Coral-pea, Guinea flower, Handsome Flat-pea, Grey Parrot-pea, Common Heath, Common Beard-heath, Pink Bells, Gorse Bitter-pea, and the only orchid found – a patch of Nodding Greenhoods.
Birds were abundant along the way, their presence mainly indicated by calls. I listed those I could recognise as: Spotted Pardalote, White-throated Treecreeper, Crimson Rosella, Sulphur-crested Cockatoo, Grey Shrike-thrush, Fuscous Honeyeater, Superb Blue Wren, Long-billed Corella, and Grey Fantail. Others added Galah, Oriole, and Yellow-faced Honeyeater.
Liz Martin sent us this photo collage.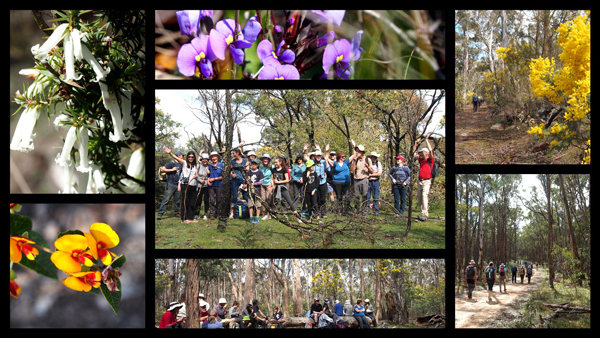 And here are some photos from Dominique Lavie (first photo) and Noel (last 3 photos). Click to enlarge.