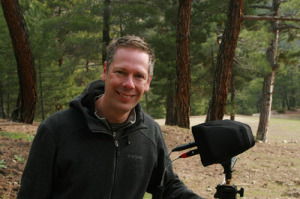 The sounds of our natural environment are comprised of many voices; birdsong, frog choruses, seasonal insect choirs, mammal calls… But how have all these varied animal repertoires evolved? What can we learn from studying, or simply listening, to nature's sounds around us? How may the noise of our modern world be impacting upon this delicate sonic balance, and conversely, how have the songs of nature influenced our own species?
Andrew Skeoch is a bioacoustic researcher, musician and Australia's best-known nature sound recordist. His nature albums 'A Morning in the Australian Bush' and 'Favourite Australian Birdsong' have each sold over 50,000 copies. Over the last twenty years, he has journeyed to remote locations in Asia, India, Africa and the Americas in search of some of our planet's most beautiful and fascinating sounds. 
"I feel that we need to listen to the natural world afresh, and hear ourselves as part of it. Perhaps then we can find more organic ways to express ourselves, and celebrate our natural place in the biosphere", he says. 
Andrew will be giving a presentation on his work and research at the Castlemaine Library on Thursday the 23rd of April. Featuring his recordings accompanied with sonograms, he will have you hearing birdsong and natural sounds from an entirely fresh perspective. Click here to download a flyer. Bookings are required.